Photo Credit: Mike Brown, Caltech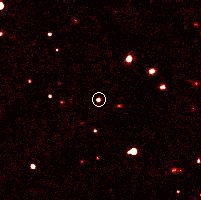 Since discovering Pluto, astronomers have been looking for a tenth planet. Calculations show that Uranus and Neptune's orbits are being pulled by an unknown gravitational force. Despite discovering many objects beyond Pluto, all are too small to be responsible. Only one (2003 UB313) is larger than Pluto and so it has been designated a true planet.
First View
2003 UB313 was first spotted on 21 October 2003, but not observed as a moving object until 8 January 2005. It will be named once the IAU has agreed on something suitable!


Fig. 1: 2003 UB313 discovery
Historical Perspective
Astronomers began searching for planets beyond Neptune shortly after it was discovered. The path Neptune was following disagreed with their detailed mathematical predictions. Something else must be pulling it off course!
When Pluto was discovered in 1930, they thought they had the answer - but only for a short time. Pluto turned out to be too small to exert a strong gravitational pull on Neptune.
Planet 2003 UB313, whilst larger than Pluto, is so much further away its gravitational tug is tiny by comparison. The search for planet X goes on!
Navigate:
Mythical Icons | Map of Pluto